He was born on May 2nd, 1904 in Culan, in the Cher in France, and spent his childhood with his grandparents. In 1913, he joined his parents in Paris. He was the only son of a shoemaker and a model-maker.
He was already interested in painting and regularly visited the Louvre Museum. He was very impressed by the works of Courbet, Delacroix, Chardin and especially by the
Battle of San Romano
by Paolo Uccello.
Having returned to Culan in 1914 for the summer holidays with his grandparents, he stayed there for the four years of the war that had just broken out and went back the Culan school. His teacher discovered in him a strong personality, a curiosity and a taste for painting which he strongly encouraged. In 1915, he began to paint with oil.
At the end of 1918, he returned to Paris and took drawing classes whilst learning to design modern furniture.
In 1919, he painted Le Boulevard de Belleville in a plunging perspective that was very assured and remarkable given his young age. That same year, he discovered the works of Cézanne, the beginning of a lifelong admiration. But his interest in painting was strongly opposed by his father, who did not want him to embark on an artistic path that he considered to be risky.
In 1923, he travelled to Barcelona, where he was entrusted with the responsibility of a design studio for fabrics and clothing. For a year, he discovered Spanish Romanesque art, before returning to Paris in 1924, to study the Primitives and especially the work of Cézanne at the Louvre Museum. He enrolled in the Atelier Libre of the Colarossi Academy in Montparnasse.
In 1927 he encountered the influence of Surrealism, particularly the work of Giorgio de Chirico. In 1929, he took part in the Salon des Surindépendants where he regularly presented his work until 1938.
His first solo exhibition in 1930 was held in Paris at the Galerie Yvangot, and he then moved to a studio in Porte de Vanves.
During this period, he became increasingly interested in cinema and directing, and he contributed to the anarchist magazine Les Indélicats by working on engravings made on linoleum. He was very marked by the events of the Spanish Civil War, displaying a certain expressionist influence from 1936 that inspired the painting entitled Les Soeurs de Barcelone.
On Braque's advice, he exhibited some work the same year in Stockholm as part of an exhibition entitled "Peinture Française" alongside Matisse, Picasso, Juan Gris and Fernand Léger.
The following year he took part in the realisation of the wall decorations by Robert and Sonia Delaunay for the pavilions of Aviation and Railways at the Universal Exhibition in Paris.
In 1939, when war broke out, he was mobilised until August 1940. In 1942 and 1943, he exhibited alongside Bazaine, Gischia, Manessier, Pignon and Singier at the Galerie Louis Carré in Paris. He then began to exhibit regularly abroad, especially in Scandinavia.
In 1947, the series of his paintings about "Métiers" ("Professions") marked a development towards a non-figurative style of painting which excluded any realistic representation, very structured and marked by bright and intense colours. This style subsequently made him one of the essential representatives of this non-figurative movement freed from Surrealism.
In 1949, he produced a lithograph entitled La Plaie ne se ferme pas, to illustrate a collection of poems by Jean Lescure. In addition to his exhibitions of paintings at the Galerie Carré, he also exhibited at the Galeries Villand and Galanis, and then at Galerie Claude Bernard.
Maurice Estève regularly returned to Culan during the summer, and worked on numerous lithographs. He also developed new techniques such as watercolour, charcoal, and collages. He worked on the stained-glass windows of the Berlincourt Church in the Swiss Jura in 1957, and also created tapestries.
In 1970, he received the Grand Prix National des Arts. From 1981, several retrospectives were organised, leader to a better recognition of his work. In 1985, he donated a hundred works to the City of Bourges, which created the "Estève Museum," inaugurated in 1987, in the Hôtel des Echevins.
Maurice Estève decided to settle permanently in Culan in 1995. He died there on June 29th, 2001.
Read more
"I just have to start: two points, a certain curve, a certain spiral, and the composition is engaged between what will be born on the canvas and my activity as a painter. That's how it goes. Obviously, the more I feed the canvas, the more it gains authority."

Maurice Estève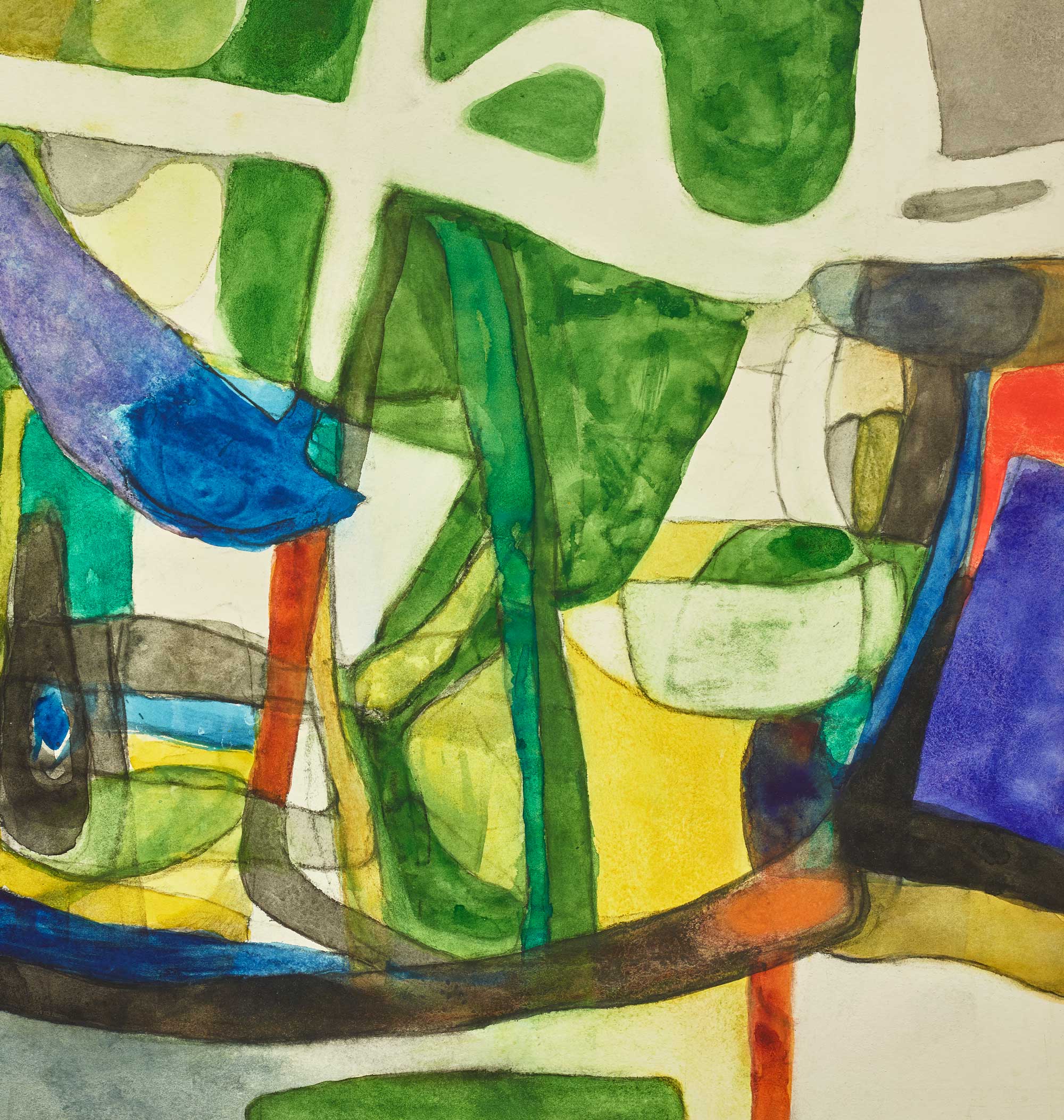 Art Fairs