Bernar Venet | Signes élémentaires
May 20th - July 20th, 2021
From May 20th to July 20th, 2021, the exhibition "Signes élémentaires" brings together a dozen large-format works by Bernard Venet (1941, Château-Arnoux-Saint-Auban), a French visual artist, an emblematic figure in conceptual art of the 1960s and 1970s, notably known for his monumental steel sculptures.
The works selected by Alexandre and Richard Fleury for this solo exhibition, mainly from private collections, created between 1983 and 1998, are representative of the artist's research into the line, an emblematic part of his work. The exhibition was conceived as a series of encounters between graphic works and sculptures, a dialogue between angles, arcs, straight, oblique or indeterminate lines.
A minimalist, radical and then conceptual artist, Bernar Venet distinguished himself from the beginning of his career from the figurative and abstract tradition present in Europe and the United States since the post-war period. The artist, beyond trends, persists in a so-called industrial abstraction. Faced with the current of the new figuration, Bernar Venet creates a cold art, close to geometry, but which goes beyond the principle of touch, gesture and individual expression. His multifaceted body of work, in fields as varied as performance, painting, monumental sculpture and theoretical writings, is an essential contribution to contemporary artistic developments.
"The use of mathematics, for me, is intended to introduce another reality. It is a language that has its formal peculiarities, its own organisation, its aesthetic rules. What interests me here is the richness of a proposal freed from the stylistic constraints of an art that would be recognised in the great movements of the twentieth century."

Bernar Venet
Discover the preview of the exhibition!
GEOMETRIC AND RANDOM LINES
From early on, the artist's research was enriched by geometric lines. They were the variables of his practice and constituted its dynamic. Closely linked to mathematics, they formed the basis of several series: the Straight-Oblique lines, the curves (Arcs), the broken lines (Angles), whose design is perfectly anchored in Euclidean geometry. In painting as in sculpture, Venet combined his lines into mathematically-determined series, measured in degrees.
From 1979, the indeterminate lines, sinuous and dynamic, freed of any geometrical constraint, were part of more recent mathematics, such as chaos theory, disaster theory, or the science of complexity, as Venet has stated. This theory was related to more complex series, such as the Accidents and Combinaisons aléatoires de lignes indeterminées. These series opened up the field of variations and freed themselves from mathematical determinism.
THE LINE AS PART OF THE GRAPHIC WORK
Whilst paper, in Bernar Venet's work, has always represented the substrate of an idea, of a concept, it is interesting to note that in the mid-1970s, it took on a visual quality characterised by the arrival of lines. From 1976, Venet broached the forms of angles, arcs and straight lines, which he first developed as paintings, and then as reliefs which quickly transformed into sculptures.
Hence, the first explorations of this new field of action took place by means of bi-dimensional transcriptions. Paper was also an important substrate for expression, uniting a certain number of properties which propitiously harmonised with Bernar Venet's approach. It is foremost the traditional substrate for the expression of an idea, for scientists as well as artists, for intellectuals as well as craftsmen. Minimal and sober in its form, it also offers a freedom and ease of action propitious to experimentation. Often revelatory of a great spontaneity, it admits no corrections, and enables the artist to express himself in a domain in which he excels: improvisation.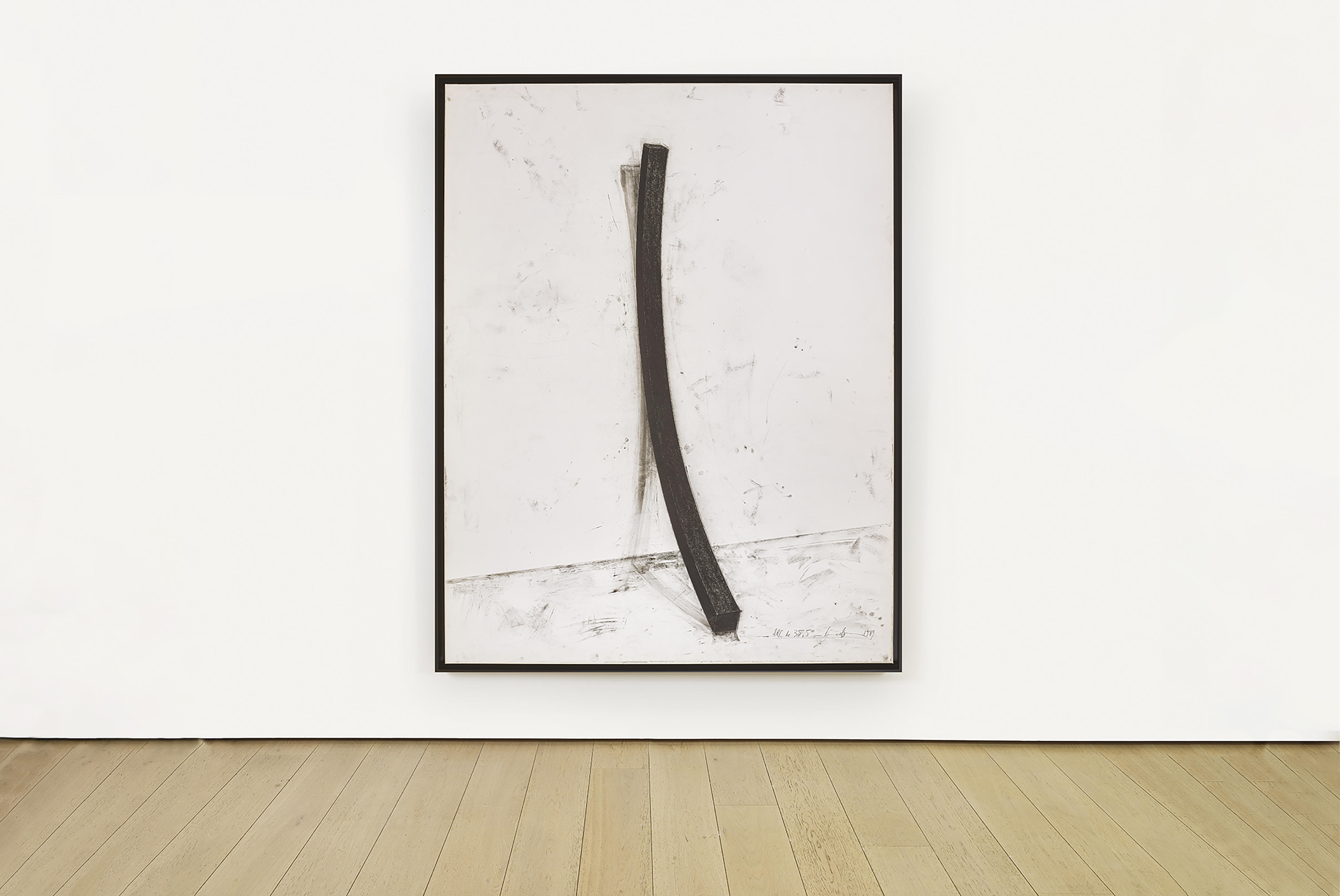 "It is in action, in the exercise of work that things happen. Intuition is imperative, rational thinking has its place, but the empirical part is often the most surprising, the most satisfying."

Bernar Venet
Press